Destiny 
/ˈdɛstəni/
noun
, plural -nies. The predetermined, usually inevitable or irresistible, course of events.
There was an actual series of events that led to me being an active, professional photographer. These events molded and shaped my life to where I am today. Incredible forces and influences shaped my style of photography and change and growth.
December 2006 I made a vow that I would learn how to simply operate a SLR correctly. I've always been into photography and I've always enjoyed photography since I was in highschool. I would save my money and buy the most expensive camera that I could afford (and all the while the button never left
AUTO
) and I was ignorantly bliss for years. Remember those moments of low light when you took an image and the shutter stayed open? You thought something was wrong with your camera? Well, that was yours truly.
During this time I owned a Nikon E5700 where I would take it on trips around the world... It's been to Germany, Italy, London, Australia, Hawaii. I loved this little camera. No fuss, no muss. However, I was not a photographer at the time, just a man with a camera. I started using it to photograph people (nothing special, just something to enjoy)... Then (as destiny saw to it), the camera died. I was heart broken. And because of that, I purchased my very first DSLR (at this point, I have approximately four film cameras in my apartment) a Sony A100. Once I purchased this camera my life changed. I didn't have that camera very long. I quickly upgraded to a Canon 5D.
I am a pretty intelligent man and over the years I've purchased many many books on the subject of cameras and photography. I would sit with the camera in my lap and try to figure out Fstops and shutter speeds and for the life of me it was all Greek, however, waaaaaaaaaaaaaaaaay in the back of the recesses of my brain, it retained all these tiny nuggets of information awaiting to be released and once it was, I was a force to be reckoned with.
In April of 2007 a really good friend of mine (fashion photographer, Sean Toussaint) came to my rescue. I went to him asking for lessons and the first words out of his mouth was: "Thank God. I was so sick of you buying these expensive cameras to take pictures on vacation." At that moment, a star was born.
It was simple. Sean and I would meet up once a week and we would have a single lesson each time. With a simple turn of the knob, he showed me the magic of shutter priority, aperture priority, manual!!! Depth of field, Fstops! All the knowledge that I have tried to understand over the years was said in simple English and the floodgates of my mind opened and my mind flooded with all the information that as retained and everything made absolute and complete sense (cue in angelic voices... aaaaaaah). Even Sean was amazed. "Things that would take people weeks to grasp and understand, you've figured out in a half an hour!" So one week we shot only in shutter priority and I would shoot the entire week. Then we would look over the images and discussed them. The following week would be aperture priority. Each week was a new and fascinating way to use my camera and then my life was forever changed. I am eternally grateful that this man has opened my eyes to the magic of photography.
Here is the very first photo I've taken when I learned how to operate my camera:
and
When it comes to photography, photographers are moved by other photographers in their growth and development and I was no different. I am constantly wanting to change and grow as an artist and technician in my craft. More often than not, once I've mastered a particular look or lighting I immediately become bored with it, hence, me pushing forward to study the next best thing. Through my journey, I've come across many photographers that took the time to teach and show me things and you will see their influence in my work.
Maya Guez
This amazing photographer hails from Israel and her talents and skills are breathtaking. Her usage of color, composition and ideas are staggering and her images do two things (a) makes you go "how does she do this?" and (b) leaves you wanting more. She's done everything from actors to famous singers. I came across a beautiful image that Ms. Guez shot of a model named Obi and it was as if Obi was dipped in a deep rich chocolate... I had to know how this was done. I contacted Maya and she was gracious enough to share information with me. At this point, my life began changing.
http://www.mayaguezphoto.com/
Her influence: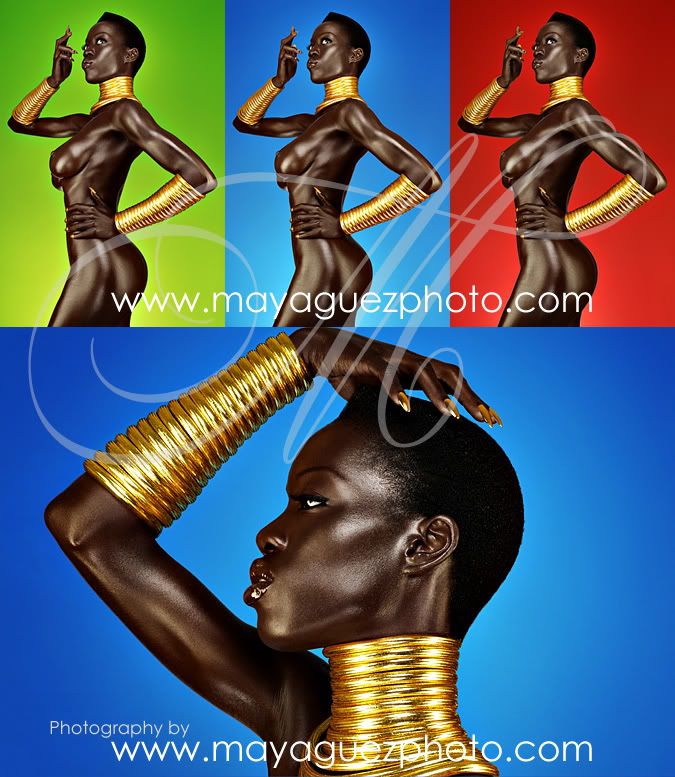 My work:
Marco Grob
I was introduced to Marco Grob by a good friend of mine, Kam Khan. When you live the life of a photographer, there are two things that you are constantly doing... Shooting and retouching. Most of the time late at night. I've given myself a 2:00am cut off to get to bed. Well one night, around 1:30, I get an instant message from Kam telling me to look at Grob's work. Needless to say, I was up until 4:00am. I've seen him shoot everything from classic beauty to Levi, Adidas and Rolex campaigns. What I've learned from Mr. Grob is usage of different kinds of light. There are situations where I would go: "how would I light something like this?" Mr. Grob was graciously enough to have on his website a "behind the scenes". It opened up my eyes a lot.
http://www.marcogrob.com/
His influence:
My work:
Vincent Peters
I came across Vincent Peters when my team and I wanted to do a film noir sort of feel and at the time, he just shot Christina Aguilera for Stephen Webster's jewelry. A simple manipulation of light and plays on shadows has taught me how to light the eyes (and jewelry) just right to achieve masterful effects.
http://vincentpetersphotography.com/
His influence:
My work:
Stephen Eastwood
New York based photographer, Mr. Eastwood is masterful at beauty photography and easy to talk to. It was because of Mr. Eastwood that my beauty work has gone to the next level and doing something as simple as taking a beauty dish and spray painting it silver on the inside and placing a mirror at its center. The thing I enjoyed about all the photographers I am presenting to you is this: They don't hide their skills. It's as simple as asking them. If you want to learn something, all you have to do is ask. True, you will never take an image like them, but they have no problems sharing the tools in which you need to make it happen for yourself.
http://www.stepheneastwood.com/
His influence: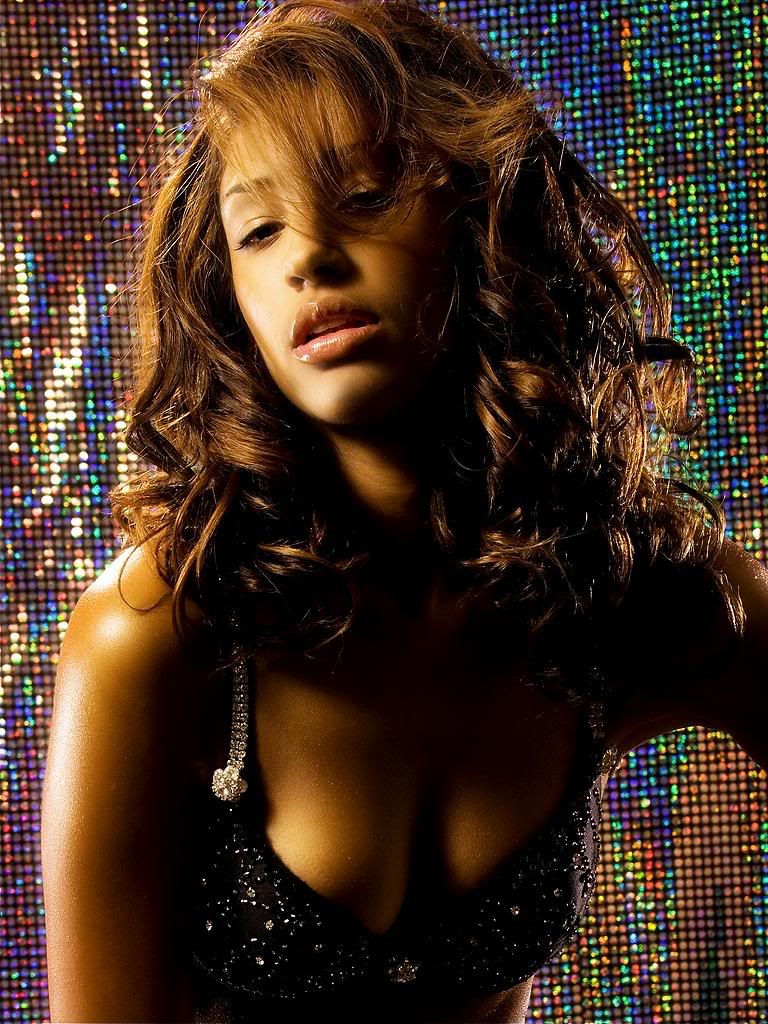 My work:
Lope Navo
By far, one of the most amazing photographers on the male form. Through him I learned out to light the male body with a mixture of flash and sunlight. Because of him, I will always be a learning photographer. He recently released a beautiful coffee table book tentatively entitled: Weapons of Mass Destruction
http://navostudios.com/
His influence:
My work:
Rick Day
Noted for his white wall desaturated photography, Mr. Day has by far influenced more photographers with fashion, lighting and post processing. His work can be seen around the world. Pick up a copy of his new coffee table book: Players
http://www.rickdaynyc.com/
His influence: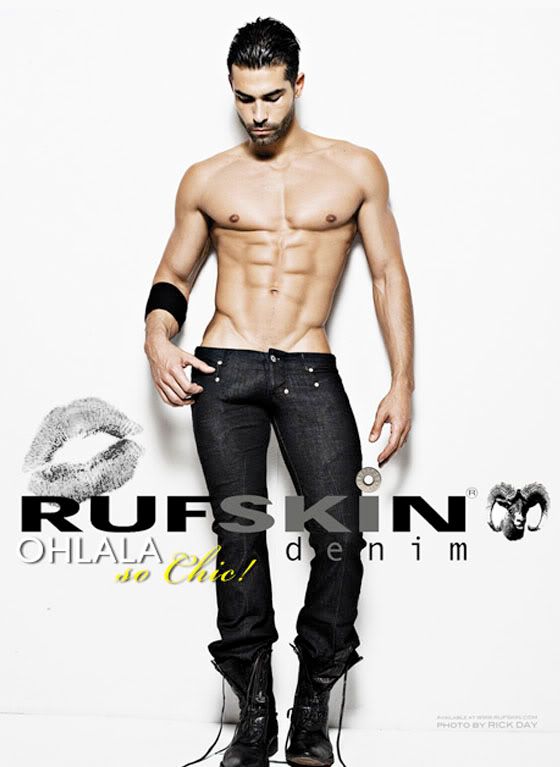 My work:
Joel Grimes
One of the "big dogs" based out of Arizona. A very humble, yet amazing photographer shows on his website how he achieved his iconic images. I've reached out to him most recently and because of him, my life is forever changed.
http://www.joelgrimes.com/
His influence:
My work:
So there you have it. These are my influences at the moment. Who knows who will influence me tomorrow? I just know this. Two years and I am still going strong.
Thank all of you who supported me and saw my talent, skill and vision. There will be more to come.