And I will tell you why! New York's Yeikov Bermudez's work is eclectic, exciting, thought provoking, striking, rich, steamy, hot, colorful, playful, sensual, sexy. And this is all going on in ONE FACE.
To see his work, his signature style is legendary. You would only have to see it once, and you would never forget it. He makes it a point never to repeat anything twice, so if you come to him and ask, you may get flip of the neck, a wave of a hand and a dazzling smile, but you won't get the same exact makeup creation. However, when he is done with you, you won't be disappointed. To him each face speaks to him in a series of lines, angles and complexions. To ask him why he does what he does, he may answer with a "why not?"
I've been trying to work with Yeikov (sounds like "jerk off" but with a Y), and finally our planets aligned. I was told by my agent that I needed to "upgrade" my beauty so I could be shopped to a higher clientele, I thought of no one I wanted to work with more than Mr. Bermudez. He is easy going, a team player and most of all, he understands the market place and what is needed to make something come alive (he also does amazing hair). All make up artists can put on eyeliner, blush, lipstick and mascara, however, when Yeikov does it, it like watching a Piscasso masterpiece being born. Visit his work and each and every time you will go "damn!!!! How does he do it?" Well, ladies and gentlemen, he is about to tell us how.
So don't ask Why can't I get some Y! Just get it and you will never have to ask why again.

Yeikov can be reached at
yeikovcouture@yahoo.com

What made you get into the make up game?
So a Game is what we call it now, ha? Well this is no game to me. But to answer your question, my story is kind of different. I was discovered by another amazing make up artist Mitch Rosado in my hometown of Puerto Rico. I was 14 and he said that I had a lot of potential. I had the honor and the pleasure of assisting him and in the beginning I was very reluctant but the curiosity had more willpower and I went on to discover the power of makeup. I discovered the drug that ruled my life, since then I'M hooked.
Who were some of your major influences in this business?
After I've learned a little bit from him and from some of my other friends, I was very influence by Thierry Mugler. I know you're asking yourself Thiery Mugler isn't he a fashion designer? I don't follow. Well let me explain. I have always been interested in painting, drawing, comics and fashion - amongst other things and one of my favorite designers that was happening at that time was him and I felt that he was a revolutionary in his craft in bringing the world of makeup and fashion together. So I was very inspired by him and the way his creations mixed with makeup. Even when the faces were "clean" you could still see the elaborate makeup. I also went to school of fashion design and I had to study many other designers like Gianni Versace, Vivian Westwood, Jean Paul Gautier, Galiano, Gucci and Yamamotho. Like others, I was always looking for inspirations to express myself in a different way. Now I look more into everybody and everything that surrounds me and I find inspiration for me somehow. I try to meet as many people as possible in the industry of fashion, makeup and photography and to be part of different creations and I think in the art of photography and makeup is where I can stamp my "name" using makeup for other people to see and to get inspired by as well. I think other people can inspire me when they make their own art.
If you could only take one makeup brand with you on a deserted island, what would it be and why?
Damn, why this question? It is so hard to make a choice. I don't marry any one company because for me makeup is makeup and I have things in my kit things that range from 99¢ to $150.00. Personally, I believe that is not the product, it's what you can do with it. In this business I have done makeup from weddings which is all about beauty in a very real way to commercial to theater to photography to body paint so I cannot choose only one company cause it depends on the job that I have to do and if you know what that product can do for you, you can use the product to your benefit. But to answer your question (laughs) I would have to say MAKEUP FOR EVER. Why? Well as for now they are coming with the newest foundations for today's technology. For example television – even High Definition, print, fashion, theater and everyday wear.
Name any model (dead or living) that you would love to paint and why?
Wow these are very hard questions, whats up with that, Dallas? Do you have a whole day to read the list of all the models that I would want to work with? (laughs) Dead and alive… hmmm. My favorite models of all time are LindaEvangelista (the true chameleon of fashion), Naomi, Tyra , Cindy, Grace Jones, Andrea Lima - should I continue? Why? Well where do I start? FIERCENESSSS!!!!! (multiple S is deliberate). Can we talk about celebrity as well? Aaaah and what happen to the new generation of models. I work with everybody and anybody, babe, and for me it's all about creating and models are only part of the work. There is also the story behind the shoot for me to do my work.
Your makeup has been called "
over-the-top". Do you agree or disagree? And why?
That is great, it doesn't matter if it's called "over-the-top" or not. At least I'm FINALLY getting some recognition (laughs). But what is up with all the labelism? It's great that I had been called "over-the-top" but let me ask you: Have you ever heard of someone that doesn't do things "over-the-top" become recognized?
I think that is my personality (smiles and touches his hand to his chest). I have done things from brides to over-the-top makeup in this industry. I've also worked at a makeup counter for many years which let me appreciated different aspects of makeup. So, I think that for me it's more about creating what is expected from me and at all times adding just a little bit of me in the mix. With the personality of my clients and the idea of what is behind it. For me is not about the makeup anymore, I am nothing without models and photographers and art directors and stylists and hair stylists. I feel that it is more teamwork from brides (that sometimes can be obnoxious if if you don't know how to deal with them [laughs]) to very high-end professionals that also have more stress because of deadlines. What I'm trying to say here is this: I have worked with many people and I guess I had post my more "interesting" work around and besides that, it's part of who I am - so I put part of me as much as possible you know? I have a different philosophy on life so I enjoy what I do as much as I can in different ways but I think this is the best way that I want to be recognized and rememebered in the world by being different and putting in my 2 cents. Why only do simple work when there is another world I can mix with it? I want to be recognized by my work so when you see it in a magazine, video, model or celebrity you will KNOW that I did it! It's like putting a signature to it. For me it's all about the experience of working with as many people as possible and giving a little bit of myself, you know? I think that I love to create and when I meet a team that trusts me enough to let me express myself within the parameters of the job is when I can give it my all. But some people may see it as "over-the-top" and I'm cool with that, but what they don't know is what is happening in my head at that precise moment. I think it creates more pressure for me to be better and each model (canvas) is different so it's more of an adjustment of the idea with the hair, the model with the makeup. That's the real trick.
I will put it like this:
it is my name that is out there and I'm hoping that the work is good enough to be accepted by others in a good or bad way, again most of my work is about the art, the editorial which is great. It is kind of like saying I think I have a couple of personalities like John Galiano who is in charge of two clothing houses, Christian Dior and his own clothing label and both of them are completely different but you still know that both of them are the same at the end and he still works with fabric and creating for everyday wear and more couture so in my case its all about makeup
If there was one thing you can change about the makeup industry what would it be?
I would love for women to embrace the use of more color freely, instead of trying to be natural at all times. Woman have the advantage when it comes to clothing, hair and makeup and I feel that they are not getting the best of it. They choose to be plain and simple when they can be gorgeous at all time. I'm not asking that every woman out there spend an hour on their look but you can do eyeliner and lipstick today, mascara and lip gloss tomorrow and choose so many combinations to look different. When it comes to men we are completely screwed because we can only be sport, elegant or casual and we only have pants and shirts to wear - when woman have an immense variety of clothing and accessories to choose from.
What is the most embarrassing thing that has ever happened to you (with regards to makeup)?
I used to work at a makeup counter for five years and this one time a bride came in to have her makeup done by me. It was the first time that we met and she had heard about me and I asked her where she was going and she said "I'm going to a wedding." So I did the routine questions of what she would be wearing and she said she was wearing white. She didn't speak too much and she was very quiet. When I was finished with her makeup I made the comment "Oh my God! You look fierce! The bride is going to hate you! You look stunning!" and she turns to me and says "what you mean that the bride is going to hate me? I AM THE BRIDE!"
For me that was one of the most embarrassing moments because I had to do her face all over again even though she loved the makeup that I did, I had to explain to her that the previous application was more for someone to attend the weeding - not for the bride-to-be. She ended up loving the Bride makeup for sure and she completely understood the difference. Whew!
Finish this phrase. Make up to me is....
Makeup to me is my HUSBAND, WIFE, LOVER, LIVE, HOBBY, WORK. In other words makeup for me is everything and then some.
It most certainly is, Y, it most certainly is.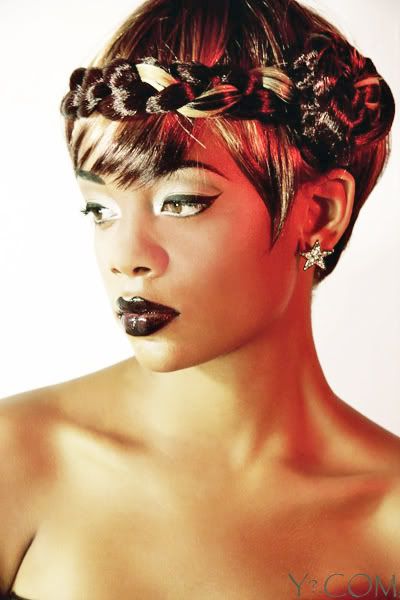 Model: Jamila
Hair: Anatalia Fernandez
Photographer: Y? Creations
This picture is very special to me in many ways.

I know this model and I know who she is as a person and she is beautiful in the inside as well as the outside and here I only accentuated her beauty like her eyes and lips and skin.

The beautiful thing about it this is that this model is only 15 and i think i was able to immortalize her age and make this picture timeless.

If I didn't tell you her age, you might not look at the picture again or you might.

But that is the point of it I did create beauty without losing the model and for me she is a chameleon which brings my work to life.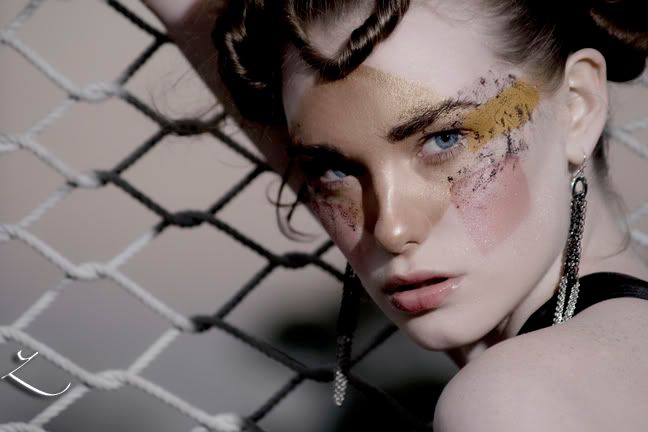 Model: Cari Braxton
Stylist: Keva
Photographer: Zephyr for Zeo Productions
Working with her was an an amazing experience.

The photographer give me all liberty of what to do in the makeup.

She mentioned that she wanted it all over the top and for me to be as wild as I want it to be.

The wadrobe that was made by Keva.

Even though the makeup here is over the top, I think that everything fits in place without overpowering one another and the model is was fierce that she can handle the make up and then some.

She made my work so easy and the vibe here was fierce!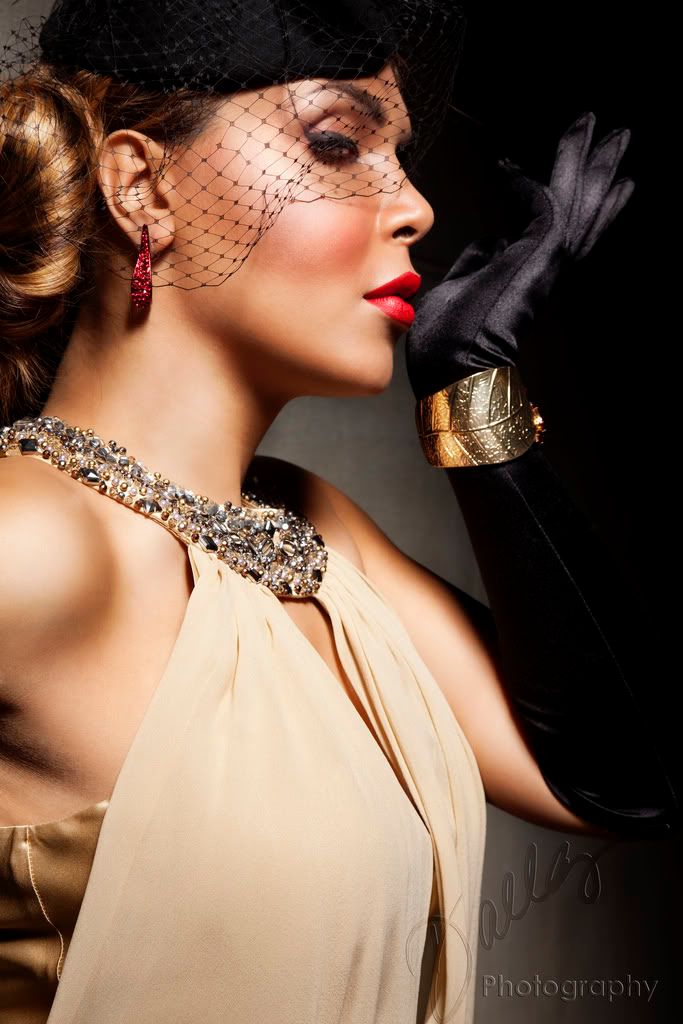 Model: Amber Rivera
Stylist: Butch Johnson
Photographer: Dallas J. Logan
Hmmmmm… Let them Have it Ms.Amber!

To this date this is one of my most awesome team projects.

Wee were there to create some FIERCENESS in the house and everybody was ON POINT!

It was so awesome.

Butch Johnson worked his magic with the clothing and she LIVED IT!

I just followed what was there and did what I had to do.

I did my things for sure (laughs) I loved this and of course Dallas lit it and captured it exquisitely.

So what more to said?

Ahhh the behind the scene on this is awesome. ;')
Model: Lymarie
Styling/Photography: Sta'fon Shamayim
So here is when my mind goes to another planet.

This photographer pushes my limits to a level that i cannot explain.

The way he see fashion is brilliant!

He knows what he wants and he styles it his on way but he he shows me a picture and says "Yeikov this is your inspiration with this clothing and accesories. This is Lymarie and she will rock this out.

Do your thing."

Ok do I really need to tell you how was my experience on this one?

I think I would write waaaaay too much.

What can I say?

I love my work ;')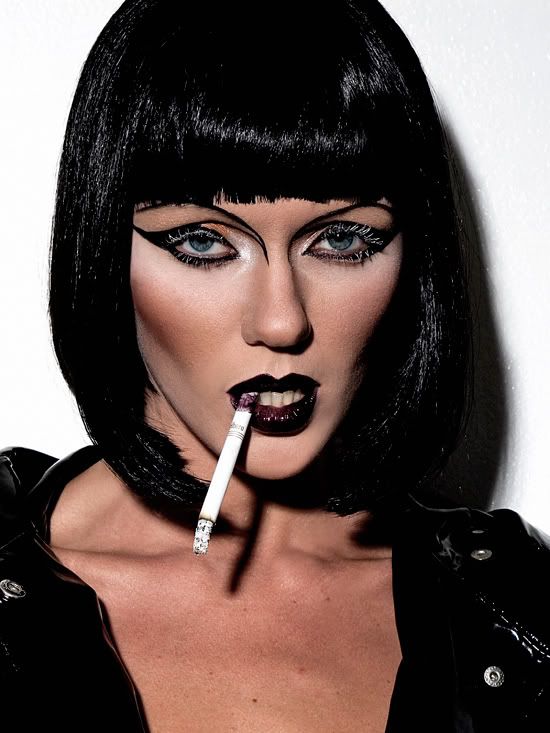 Model: Anya
Stylist: Truman
Photographer: Laretta Houston
Ok here is another HALLARATION!

I LIVE FOR THIS!

This picture is what will describe my personality the most.

This for me was a very real and BRILLIANT!

Each time that I can reunite with a team like this is just a mind-blowing creation I beleive that you put three different minds that collide with each other without overpowering one another - combining a little bit of everything is a mixture of control and de-control in its usage of the words passion, elegnace mystery, glamour, edge versatility, fashion sexuality and sensuality.

This picture represents a style and again was another special work that when all the pices came together the magic just flowed.

It is always a pleasure working with Laretta Houston.

Her mind is

a Panodra Box.

She, like me, is very visiual and she wants to capture something hot with the model in a Fashion way.

She will ask for you to please her in a very extraordinary manner, She has a book of ideas that she works at all time so from there she picks her next shoot, then she comunicates the idea to Mr Truman who has an amazing mind when it comes to fashion and with his exquisite mind he brings the clothing and accesories to make the shoot happen and he know how much is enough for the idea.

Anya was just in her element wjem she said to me;

"Yeikov whatever you do I will sell it to you.

Put as much makeup as you want.

You know I know you will.

Do your thing."

I came here cause I live for you was the thought in my head

"Ok I'm just going to let your face speak to me and I will stop when is done."

I'm not sure when is that but I will, and I just let mind flow.